GEARING UP FOR DECEMBER 2018 – Is This Your Time to Buy?
Conventional wisdom is that December is the time to buy real estate because prices dip at the end of the year; whether because of the frigid weather setting in, the distraction of the holidays, or the long hours of darkness that make it harder to properly view properties in the daylight.
Are you a buyer who is thinking of trying to get a great deal in December? Keep reading!
If you have ever asked a realtor what they think is going to happen down the road, you likely got some version of this answer:
"We have no crystal ball."
"If we could accurately predict the future, we'd be RICH."
"No one knows for sure, and anything could happen."
With all those caveats acknowledged and out of the way (because they're all kind of true...), let's do a little digging to see what we do know:
Commenting on December 2017, RAHB CEO George O'Neill said:
"December is traditionally the slowest month for listings and one of the slower months for sales. Sales were actually quite good for a December – better than average and better than the comparison to the previous year might suggest. We saw record sales for the month of December 2016, so it's no surprise that this December's numbers were lower."
Mr. O'Neill made those comments nearly a year ago. Just to jog your memory, Ontario's real estate markets of 2016 and into spring of 2017 were on fire. Bidding wars were the norm, and properties would sell in a matter of hours unless they were holding offers, which they most often did. Buyers were forgoing inspections, and even finance clauses. It was crazy.
The provincial government of Ontario instituted a Non-Resident Speculation Tax in April to discourage foreign investors and speculators from driving prices up in already hot markets, and it had an effect in the months to follow.
As of September 2017, there were fewer sales happening, properties were taking a little longer to sell, and instead of the record-breaking year-over-year price gains of 25% and more that were common in Hamilton in 2016, we were seeing a (still healthy) 5 or 6% gain for freehold properties over the previous September.
Leading up to the 'traditional' December slowdown, buyers might have expected 2017 to be the year they were finally going to get a really great deal, and a few did. The following chart gives a snapshot of activity for the month across the different property types as compared to a year before.
Charts only show part of the story...but here's one for December 2017: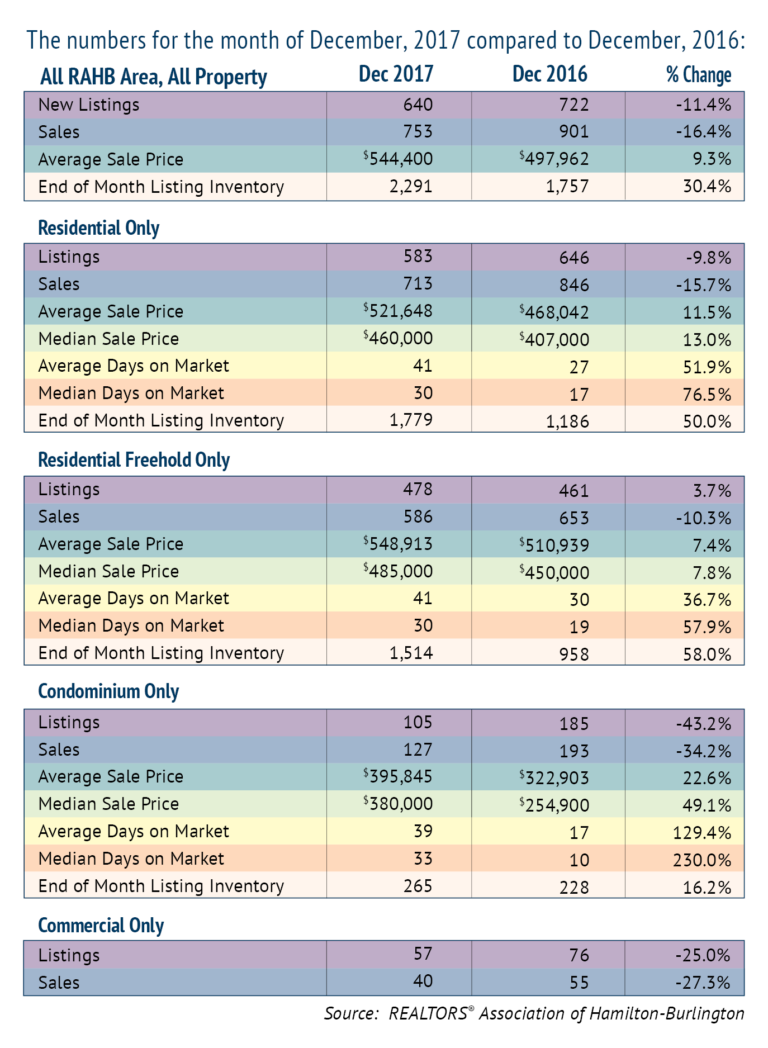 We can clearly see that there were fewer new listings, fewer sales, and slower price growth than we experienced during the "frenzied" years before. The increase in the average price of condominiums in the areas covered by the Hamilton-Burlington Board was still very impressive!

Beyond the obvious, we can see a clue to an important shift in the position of Buyers when we examine the Average Days on Market. Do you see the increase in the numbers? Overall, listings took over 50% longer to sell than they had the previous year.
Why does that matter?

Selling a home is a highly emotional experience that can be very stressful for a homeowner. Repeated showings, or worse, a lack of interest in their property can wear a Seller down. Despite the increase in the sale price of residential listings overall, Buyers were able to take back a little control as the market calmed. Sellers were more willing to negotiate down from their asking price, especially if their homes stayed on the market longer than they expected. This didn't mean that Sellers were losing money - simply that, in many cases, they had to adjust their expectations. Balance was returning to the market.
Let's put the history lesson aside for now and move on to what is happening right now...
Here are the October 2018 statistics (the most recent ones we have):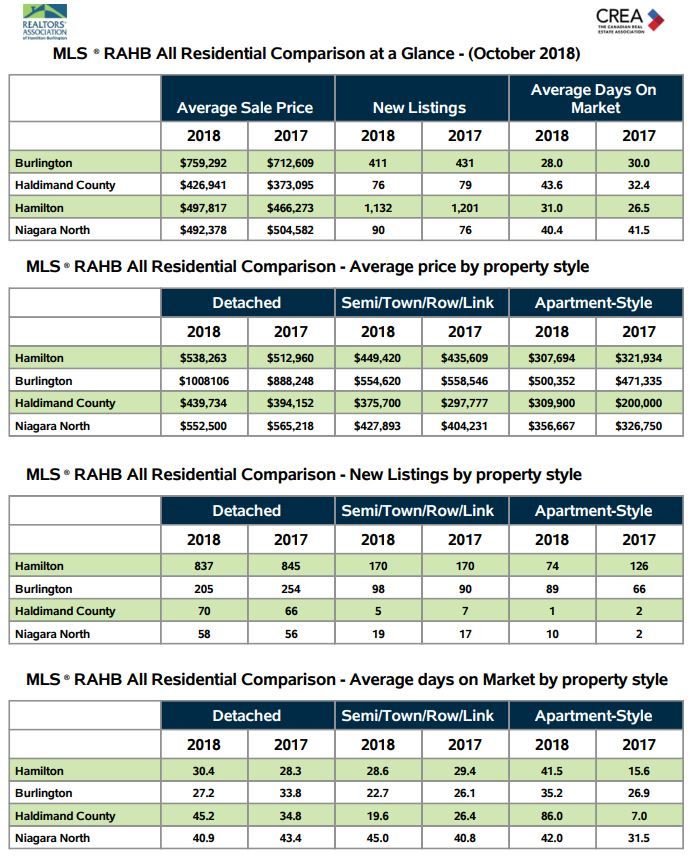 October was a healthy month for Hamilton/Burlington and the surrounding areas. Not including apartment style condos (which are very much their own market, and warrant a separate post!), the time it took to sell a property was very similar to October of last year, with modest price increases. The trend toward year-over-year stability seems to be continuing. Unless something drastic or shocking happens, we can cautiously assume that December 2018 is going to look a lot like December 2017.
BEYOND THE GRAPHS, CHARTS, and STATS...
If we went just on the numbers, it would seem that December is just 'business as usual.' But there are intangibles and other factors besides sales data that affect every transaction, every buyer, seller, and cycle. What are some things that might influence the activity this year, in December 2018?
Well, let's start with the most obvious elements: Most families have no desire to uproot in the middle of a school year, much less deal with showings during the holidays. Here in Southern Ontario, we are guaranteed at least a few very sloppy weather days during the month, making every house a little tougher to keep clean than during the warmer months. This tends to mean that Sellers who put their homes on the market at this time of year are at least slightly more motivated to sell. Maybe they are dealing with personal circumstances that require a move: A job transfer, a layoff, a death, or a divorce. As a Buyer, this may offer an opportunity for you to negotiate a price or favourable terms that you otherwise wouldn't get.
One other very important consideration is the economic climate. In December 2017, the new "Stress-Test" loomed large on the horizon, creating pressure on a large number of buyers who were pre-approved for mortgages in the last quarter of the year. Although buyers with less than a 20% down payment had been subject to a stress test for some time already, January 1, 2018 was the date when lenders were required to apply the test to all buyers, regardless of their equity. The benchmark lending rate was set at 5.14%. The legislation requires all buyers to prove that they can afford to carry a mortgage at the benchmark rate, even if the lender offers a much lower actual rate. For many of last year's December buyers, missing the cutoff date would have meant lowering their budget, and thus, their expectations - something most were unwilling to do. This group of pre-approved buyers likely accounted for some of the brisk activity in the "traditionally" slowest month of the year.
On October 24, 2018, the Bank of Canada raised its trend-setting overnight lending rate from 1.5% to 1.75%. Current posted 5-year lending rates are between 3.89-5.59%, and the benchmark rate as of October 24, 2018 is 5.34%. The understanding is that interest rates will be going up steadily for the foreseeable future, and it may become more difficult for buyers to qualify for a mortgage. It seems likely that a similar scenario could play out in December 2018, with buyers who are trying to beat an interest rate hike.
The next scheduled interest rate announcement is December 5, 2018. Buyers who have to buy in the near future would be well advised to get pre-approved by their lenders before that date in order to lock in those lower interest rates for at least the initial term of their loan.
Do What's Right For YOU
Now that we have dissected the market and its seasonal idiosyncrasies a little, it has to be said that buying a house is never something to do on impulse or under undue pressure. Whether you decide to take advantage of the December market conditions to go house hunting or not, always be sure to calculate the cost and consider your own needs and circumstances before all else. Can you really afford a house right now? Have you saved enough of a down payment, as well as enough for closing costs? Are you in a position to maintain your investment? Make a list of pros and cons and think through your decision before jumping in with both feet.
If you have taken time to do that, and you have decided that now is the right time, maybe you will find yourself starting 2019 at a new address that is all yours!